College Planning Franchise Provides New Tools to Help Franchisees Manage and Grow Their Business
Access to the best tools and resources is a benefit of being part of a franchise system, and Class 101 college planning recently has rolled out another way to help owners manage and grow their business. Class 101's new client management system will make franchisees more efficient and improve communication with clients, says Class 101 Franchise Sales Director Colleen O'Brien.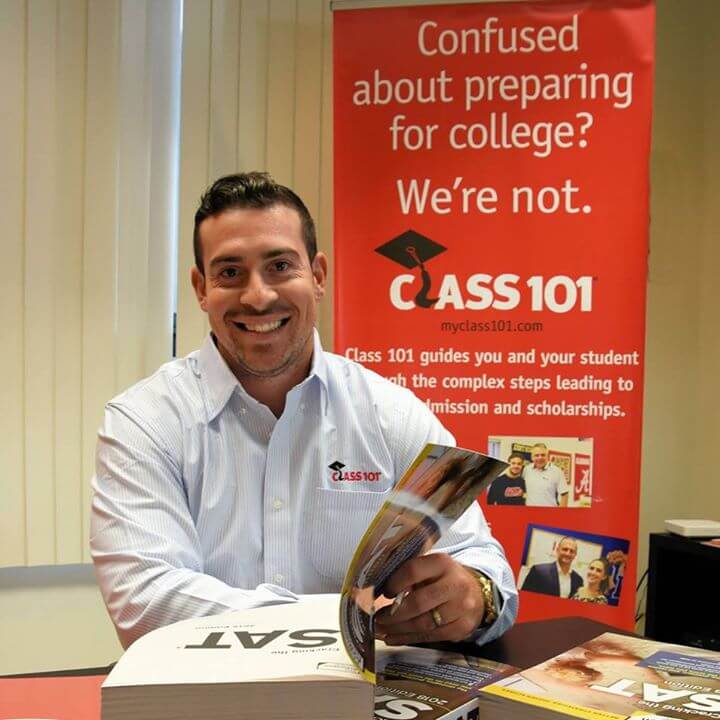 Class 101 franchisees are already plugged in to a supportive network of fellow owners. The new CMS system helps them manage client relations, O'Brien says. "It's a more conscientious way for a franchisee to manage the client, as well as the college planning process. It allows better tracking and communication among franchisee, student and parent. The new system puts things in one comprehensive place for all communication and tracking. It's a huge time-saver for the franchise, making them more productive and efficient so they have more time to focus on their business."
At Class 101's annual conference this summer, we announced three franchise-wide programs to strengthen brand awareness and franchisee support. In addition to the new CMS, Class 101 is launching a national Class 101 Scholars scholarship program and an ACT and SAT online platform.
Class 101 national college planning franchise helps high school students get into better colleges and qualify for higher amounts of scholarships and financial aid. The college application process is complicated and stressful, often resulting in students who get very little, or zero, financial aid and who end up at the wrong school. Class 101 addresses this need by meeting one-on-one with students once a month for hour-long sessions throughout the year, resulting in improved ACT and SAT scores and GPAs.
Additionally, our college planning experts guide students as they draft a high-performance resume and powerful essays, visit schools, complete applications ahead of schedule and navigate the scholarship and financial aid processes. The results are phenomenal. Class 101 students apply to 7 schools on average and receive more than $160,000 in scholarships and aid, much more than the average U.S. high school student who applies to a handful of schools and receives about $20,000 in scholarships and aid.
Strong Training and Support Help Franchisees Thrive
Talk to any Class 101 franchisee, and they'll say one of the company's standout qualities is its strong franchisee support. For franchisees such as Tim Brown in Tupelo, Mississippi, it was a deciding factor in their investing in Class 101. As someone who has previously owned his own business, Brown says the accessibility to Class 101 leadership has been incredible. "Class 101 leadership is wonderful. I can always get someone on the phone, and they respond very quickly when emailed. There is a real sense of family and loyalty here."
There aren't many businesses that give you weekly access to corporate leadership, but that's what you'll find with Class 101. Strong franchisee/company leadership interaction is just one reason Pittsburgh franchisee John Izzo decided to turn his love for helping high school students into a full-time business. "Franchisees have three calls each week: our Monday morning check-in plus our Friday technology and marketing calls. Basically, Class 101 franchisees have the opportunity to get the founder, CFO and CEO on the phone three times a week," Izzo says.
Class 101 also offers year-round continuing education opportunities. These, alongside one-on-one support and idea-sharing from fellow franchisees, organized campus tours and Class 101's annual conferences, help our nationwide network of college planners stay relevant and ahead of college planning trends. It's no wonder Entrepreneur magazine has recognized Class 101 as a Top Franchise Opportunity for Less than $50,000.
Join Class 101 College Planning Franchise
Are you interested in owning a business that helps families in your community? With a franchise fee of just $29,900, you can launch a business that offers both the potential for high earnings and a strong sense of pride. Several of our franchisees have surpassed the $100,000 revenue mark in their first or second year of business.
If you're passionate about helping young people and would like the chance to make a living while helping families save thousands on college costs, Class 101 may be the business opportunity you've been seeking. We're enjoying unprecedented nationwide growth and are looking for new franchise owners.
Find out more researching our franchise website, call 855-392-4843 or request a copy of our free franchise information report.