How Does Our Service Work?
Our College Planning Franchise Addresses an Unmet Demand
It doesn't take long for word to spread among high school students about the great results that come from working with our Class 101 college planning franchise. After a free initial consultation at the Class 101 office, our counselors meet one-on-one with college-bound students every 2-5 weeks, typically after school or on weekends, depending on the time of year and the grade level of the student. Parents are not present at the individual counseling sessions, although we are in constant communication with them about their child's progress.
We advocate starting the college application process as early as possible in high school, and definitely by a student's junior year. "Choosing a college is a long but rewarding process. It takes time to find which college is the best fit for you. The sooner you complete your application (including transcripts, test scores, personal essay and so on) the sooner you will receive a decision and your merit scholarship award. This provides you more time to investigate and weigh your options," says Michael Joseph, vice president of enrollment management at Valparaiso University in a New York Times blog post.
One-On-One Meetings Result in Savings, Success & Less Stress
The typical high school counselor doesn't have the bandwidth to adequately guide a student through the college application process. According to a 2009 U.S. Department of Education survey, public school students receive an average of just 45 minutes of college admissions advice from their guidance counselors. This is a minuscule percentage of the time truly needed to navigate a process that is challenging for even the most informed and organized parents. Class 101 students receive individualized attention focused on their particular talents, needs, and goals.
"High schools have guidance counselors, not college counselors. Guidance counselors are working with students on their classes, social skills and family issues such as divorce, which all take away from college preparatory time," says Class 101 Founder and CEO Tom Pabin. "It's a numbers problem. They don't have enough time to work with these kids — the top 10 maybe — but the other kids don't get looked at or they get treated casually. We all know that casualness causes casualties. It's what people don't know that ends up killing them on financial aid."
At each session, we work with students on setting goals and ensuring they are meeting all critical deadlines — from scholarship applications to submitting financial aid forms. We take the stress of the college application process off parents and become a trusted mentor to students who are often more likely to listen to the expert guidance of a Class 101 counselor than to Mom or Dad.
We Help Students Stand Out During the College Application Process
At Class 101, we know that a college application is more than just deadlines and test scores. We work with high school students during every step of the college application process to help them stand out in the crowd. Because many admissions counselors, particularly at more selective private schools, take a holistic approach to the selection process, we work with students to identify and develop the things that help them stand out from the rest of the applicants. We call these "separators," and we make sure our students put their activities front and center, whether they launch charity drives, give free dance lessons, or collect books for underprivileged kids in Appalachia.
We help students develop a resume that gives them a competitive edge when it comes to merit-based scholarships. Great college resumes contain a combination of leadership positions, advanced classes, and volunteer activities. Our education franchise owners and their teams help all students develop a well-rounded, individualized resume.
Lastly, we know that a well-written essay is not always enough. For more competitive schools, a unique and memorable essay is often the deciding factor on admission or scholarship funds. We help students write an essay that sets them apart from the crowd.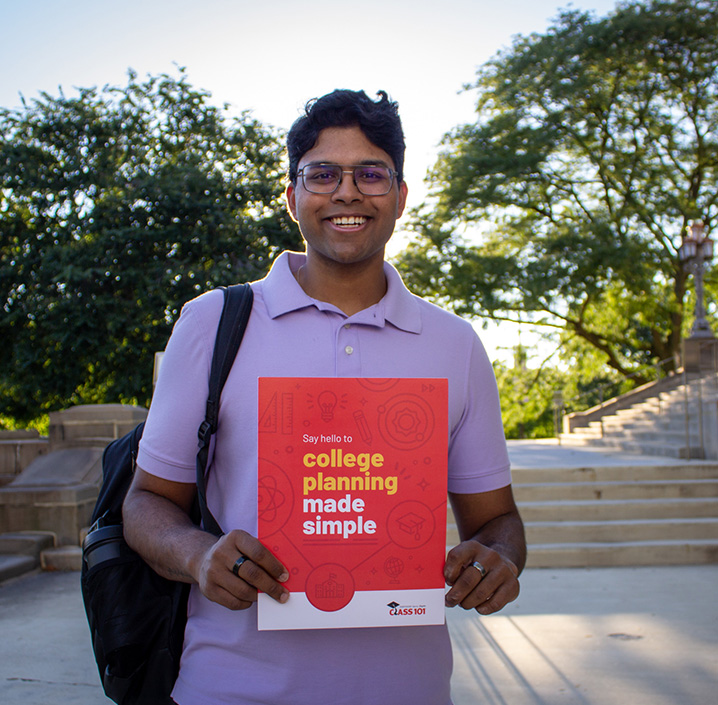 A Tried & True Process for Students & Parents
Our college prep franchise has a step-by-step process that helps guide students through every part of the college application process. For nearly 20 years we have developed and perfected a system that results in our students receiving an average of $160,000 in merit-based scholarships, not to mention thousands of dollars in grant and aid money. The average annual price for undergraduate tuition, fees, room, and board is more than $20,000 at public institutions and $40,000 at private nonprofit institutions, according to the National Center for Education Statistics — and those numbers are rising. Parents need help navigating the college application system and managing tuition costs. Class 101 is here to meet that need.
If you're ready to bring our college planning franchise into your community, reach out to us today and request information to get started.