How Much Money Can I Make
What to Expect with Our Education Franchise
The Class 101 business model ensures that owners have a steady stream of revenue throughout the year, not just during the school year. Our college planning franchise owners have three ways to generate revenue: classes to prepare students to excel at the ACT and SAT, organized campus trips, and retainer agreements for one-on-one consulting services. Early engagement is key!
Retainer Agreements Are the Bulk of Our Business
One-on-one consulting with students is the bread-and-butter of our business model. With the average sale for a Class 101 franchisee at $3,400 and an impressive average close rate of 90% nationwide, Class 101 is a low-overhead business model with the potential for high revenue from day one. The average gross revenue for our top 35 franchises in 2022, according to our most recent FDD, was $164,362**.
Want to increase your income? Sign up more students. Because parents typically pay a down payment of $800, then $100 per month for the remaining time, you'll have the ability to plan income and expenses over time, making it easier to grow your business.
**See item 19 of the current Franchise Disclosure Document for additional information.
ACT & SAT Prep Classes Provide Additional Revenue Stream
Class 101 offers popular ACT and SAT preparatory classes, as well as organized campus visits throughout the year. These courses provide additional revenue and are typically held at a library or local school. They are available to students who aren't part of a regular consulting retainer, and they are extremely popular. Students may take the ACT up to 12 times, and many Class 101 students will take the courses five to seven times over three years.
Class 101 students on average bump up their ACT score by 3.1 points. With the ACT, just a few points can equate to significant additional dollars available to high school seniors in scholarship and grant funds.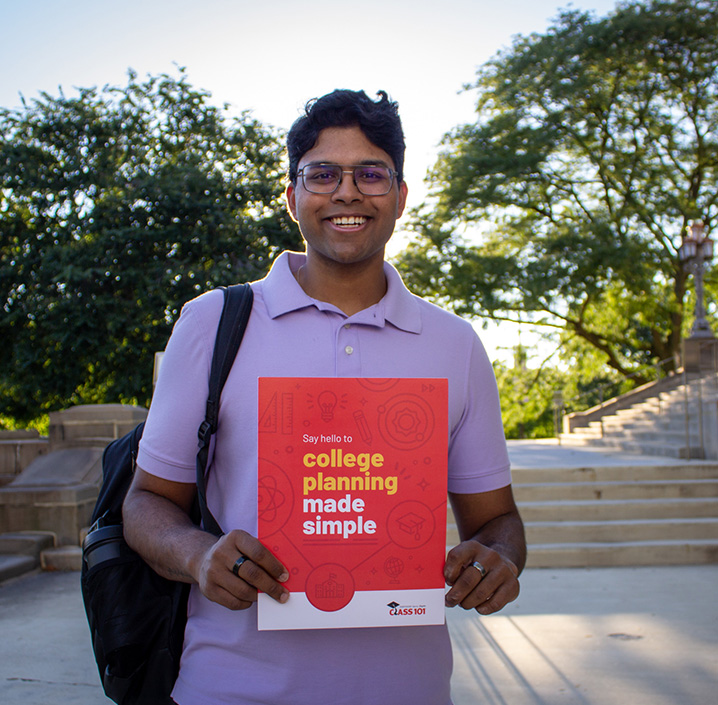 Organized Campus Trips Are an Extra Service
At Class 101, we believe that visiting campuses is a crucial part of the discovery process for students. As part of our range of services, we help students narrow their college choices based on several criteria: distance from home, size of campus, their major area of study, weather, city size and environment (urban or rural), and the type of school, such as private, state, religious, etc. Most families visit a college for just two hours before deciding on applying.
At our college planning franchise, we recommend a minimum of 10 in-depth campus visits. Our organized campus trips are regionally based and typically include three to four college campuses per trip. These trips give students the opportunity to meet campus admissions counselors, visit classrooms, and tour campus facilities so they can really get a feel for campus life. This affords them and their families a much more educated decision-making process.
Have questions? Check out our FAQ page. If you're ready to take the first step toward being the proud owner of the best education franchise, fill out our contact form today!