The Monster Scissors Were Pulled Out for Yet Another Class 101 Grand Opening and Ribbon-Cutting Ceremony for the First of Four New Franchises to Open in Irvine, California.
The newest location of the premier college planning service officially opened on May 15, but we celebrated June 1, when the latest Class 101 owner Wael Ibrahim welcomed the community and local representatives to tour the 5,000-square-foot facility. As a part of the celebration, Wael received a Certificate of Recognition from the California Legislature.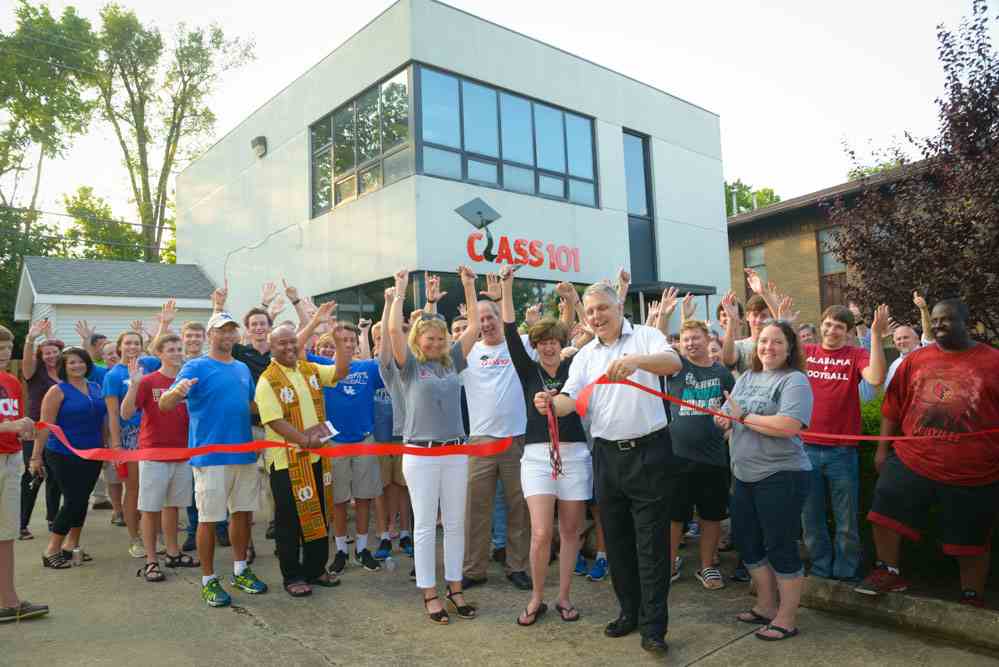 Wael, along with Vivian Chen, a college planner and the operation's manager, have hit the ground running and have already contracted with families to provide one-on-one college planning services. The new location is the 18th Class 101 franchise to open as part of the overall Class 101 expansion plan to open 25 new college planning service centers in 2017.
"We are so excited about this new venture, and we can't wait to help students get into better colleges with more scholarships and grants," Wael says. "Our team is committed, and we've opened our doors with special pricing for students. I can't say enough about this location. It's the perfect place to serve students as we have multiple classrooms, conference rooms and a library."
As a father, Wael discovered his passion for college planning when he was helping his daughter with her college applications. Class 101 addresses problems that millions of high school students and their families face year after year — the college application process, navigating federal applications, and finding the right fit for college, Wael says. "I understand the frustrations first-hand. We want to help and serve our community, one student at a time," he says.
While one-on-one consulting is a major focus for Class 101, we are also known for other services, such as preparing students to excel at taking the ACT and SAT and organizing campus visits. We want to support high school students and tackle many of the college-bound issues before they become a challenge, Wael says.
The Class 101 method is to begin working with students in their freshman and sophomore years of high school. We are their guides to becoming better students and creating the future they hope to achieve, says Tom Pabin, CEO and founder of Class 101.
"We are just thrilled to have Wael and his team on board," Tom says. "He is a natural at the college planning process and has a big heart. He understands that at the end of the day this is about helping students achieve their dreams."
Meantime, it is a very exciting time for our family of franchisees at Class 101, Tom says. As word spreads about our success rate, more and more families are signing up for our services, fueling our record growth last year and positioning us for explosive expansion into the years to come.
"North, South, East and West — we're looking at all areas of the country for expansion this year, with primary focus on the Atlanta and Chicago areas, and on Texas and Ohio," Tom says. "We know there's great opportunity anywhere there are families who are sending their kids to college. The demand for our services is only going to increase as more and more time-strapped and stressed-out families struggle to navigate the college application process with their kids."
Be a Part of the Class 101 College Planning Franchise Family
The initial investment to begin a Class 101 franchise is $40,490. There is potential for high revenue from day one, and several of our franchisees have surpassed the $100,000 revenue mark in their first or second years. The average gross sales for our top 5 franchises in 2015, according to our most recent FDD, was $137,000.
There's never been a better time to join Class 101 college planning franchise. We're enjoying unprecedented growth and expansion and are looking for new franchise owners who are passionate about helping young people.
Find out more researching our franchise website, call 866-345-8955 or request a copy of our free franchise information report.