College Planning Franchise Assists Families to Fund the Rising Cost of College — And to Avoid Dipping Into Retirement Savings
The typical investor has two goals: saving for college and saving for retirement. Rising tuition rates are pushing more parents to dip into their retirement plan and postpone retirement to pay for their kids' education. According to a Franklin Templeton survey of college savings trends, 21% of families with children said they would retire later in order to finance a college education. Class 101 helps families save money on college so they don't have to put hard-earned savings at risk.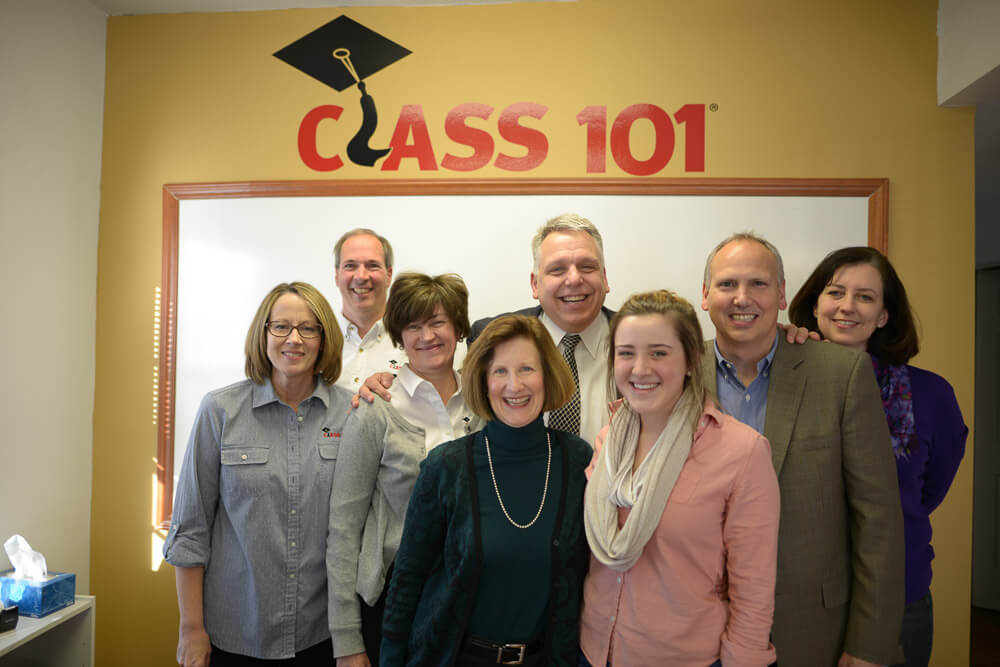 "Many families are saddled with overwhelming debt because they sent their child to college without the help of financial aid or scholarship money," says Class 101 Founder Tom Pabin. "Parents and even sometimes grandparents end up putting their retirement goals on hold because they can't see any other way to pay for college. Class 101 was founded to help families find the best college at the best price and our proven methods result in thousands of satisfied customers and happy college graduates."
Class 101 is a national college planning franchise that helps high school students prepare for standardized testing, get into better colleges, receive higher amounts of scholarships and financial aid. We address a common problem: the college application process is complicated, competitive and stressful, resulting in students who don't get enough, or any, financial aid and often end up at the wrong school.
Today's high school guidance counselors are overwhelmed and the college admissions process with its multiple deadlines, financial aid forms and essay requirements can be confusing. That's where Class 101's caring network of professional college planning advisors step in.
Own a Rewarding Business That Saves Families Money
With college costs rising at a rate of 6% above the rate of inflation (long-term), the time and money spent on Class 101 college planning services are well worth it. The average college tuition and fee bill was 40% higher in 2015-16 at public four-year institutions than it was in 2005-06, and it was 26% higher in the private four-year sector, according to the College Board.
Class 101 is a rewarding business to own. Our No. 1 criteria for a Class 101 franchisee is having the heart for the business. This is a relationship business, and our franchisees love working with and mentoring teenagers.
Class 101 Services Produce Stellar Savings for Families
Because of the methodical process that Class 101 franchisees use as a guideline for helping each student, our clients end up not only saving money on college, but also loving it. We help them find the perfect school that suits their talents and aspirations, which leads to a happier and more satisfying career. We also help students bump up their ACT score an average of 3.1 points, which can equate to significant additional dollars available to high school seniors to help ease the financial burden of tuition.
"At Class 101 we are able to save families an average of $160,000 through merit-based scholarships alone. We have a huge referral rate once word spreads about the money we can help families save and we offer a sibling discount, which is appealing to the many families sending more than one child to school," Tom says.
Learn more about Class 101 college planning franchise
The Class 101 business model ensures that owners have a steady stream of revenue throughout the year, not just during the school year. Franchise owners have three ways to generate revenue: classes to prepare students to excel at the ACT and SAT, organized campus trips and retainer agreements for one-on-one consulting services. Class 101 is a low-overhead business model with the potential for high revenue from day one. With a franchise fee of just $27,500 and an initial investment of $40,400 to $57,600 for a Class 101 franchise, the college planning franchise is a low-investment opportunity with a high potential return. Ideal candidates have a net worth of $100,000. The average gross revenue for our top 5 franchises in 2015, according to our most recent FDD, was $137,000.
For in-depth details about the Class 101 franchise opportunity, download our free franchise report. You can also learn more by visiting our research pages.