Former Spring Hill College Administrator and Assistant Professor Has Big Plans for Class 101 in the Mobile Community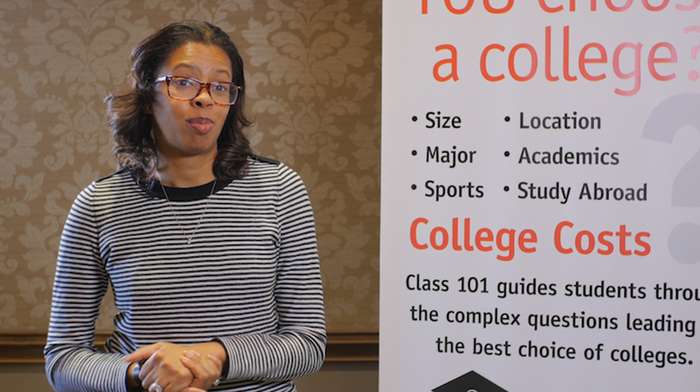 Class 101 college planning franchise has officially opened its first franchise on Alabama's Gulf Coast, marking the franchise's 35th location. The inaugural Alabama franchisee is longtime former college administrator and professor Tracey Childs.
After nearly 20 years working in administrative and teaching roles at Spring Hill College, a Jesuit liberal arts private school in Mobile, Childs knew she wanted to change career paths. She did some soul-searching during a retreat that was part of a work leadership program in 2017.
"I wanted to make sure I was doing work that was purposeful both professionally and personally," Childs says.
She began searching for franchise options focused on education, and she found Class 101. After attending Discovery Day in September in Lexington, Kentucky, at Class 101 headquarters, she was confident that Class 101 was her next step.
Class 101 is an attractive business model for individuals who are new to franchising and want
to make a difference in the lives of young people. They are aligning themselves with our time-tested brand that is growing beyond our Lexington, Kentucky, headquarters to locations as far west as California and as far East as New Jersey. Entrepreneur Magazine has even recognized our college planning franchise as a Top Franchise Opportunity for Less than $50,000 and Franchise Dictionary Magazine recognized us as a top game-changer franchise.
"It's an exciting time for Class 101 as we continue to enter new territories. We are really just beginning to ignite nationwide," says Class 101 Founder Tom Pabin, who launched his college planning business 20 years ago. "The beauty of Class 101 is that there is a need for our college planning services everywhere. No matter what part of the country our franchisees set up shop, they can rely on an influx each fall of high school students who will be applying to college — and their families all need help navigating the confusing and costly college application process."
Class 101 national college planning franchise helps high school students get into better colleges and qualify for higher amounts of scholarships and financial aid. The college application process is complicated and stressful, often resulting in students who get little or no financial aid and end up at the wrong schools. Class 101 addresses this need by meeting one-on-one with students throughout the year, which results in higher GPAs as well as ACT and SAT scores.
Additionally, our college planning experts guide students as they draft a high-performance resume and powerful essays, visit schools, complete applications ahead of schedule and navigate scholarship and financial aid processes. The results are phenomenal. Class 101 students receive more than $160,000 in scholarships and aid on average, compared with the U.S. high school student, who on average receives just $20,000 in scholarships and aid.
Class 101 Meets a Demand for Comprehensive College Planning
Working at a college campus in an administrative role as associate dean of students, Childs witnessed firsthand the problematic issues of student retention and rising college costs. She is looking forward to helping families in her community successfully navigate these issues. Within weeks of official training at our Lexington headquarters and opening her Class 101 franchise, she already had filled her community ACT class and was networking with her local BNI and chamber of commerce.
"I really think that Class 101 is an opportunity to back up those conversations and prepare students even earlier so they have a more comprehensive knowledge about things like 'What is it that I am going to pay and how am I going to do that?' And "What school has the major I am interested in?' And 'What kinds of things am I interested in?'" Childs says. "We are having those conversations a lot earlier so that students are able to go to their schools, persist to the second year, graduate in four years and save even more money."
Our College Planning Franchise Is a Community-Centric Business
Childs also is looking forward to getting to know the Mobile community beyond the Spring Hill campus and working with students who may be from underserved communities or those who are first-generation college students.
"I'm really looking forward to knowing people in our community in a different way. I've spent so much time at one campus immersed with one set of students, and I really think Class 101 is going to give me the opportunity to work with so many more people from so many different backgrounds and so many different family situations. And I just love people, so I think it's going to give me the opportunity to get to know more people," Childs says.
Looking for a first-time franchise opportunity that has a positive effect on families in your community? With a franchise fee of just $29,900, you can launch a business that offers both the potential for high earnings and a strong sense of pride. Several of our franchisees have surpassed the $100,000 revenue mark in their first or second year of business. We provide stellar franchisee support, essentially helping you every step of the way as you build your business.
If you're passionate about helping young people and would like the chance to make a living while helping families save thousands on college costs, Class 101 may be the business opportunity you've been seeking. We're enjoying unprecedented nationwide growth and are looking for new franchise owners.
Find out more by researching our franchise website, calling 855-476-1028 or requesting a copy of our free franchise information report.