Popular Business Magazine Includes Class 101 on Ranking
Of Best-Bet Investments for Less Than $50,000
Well-known business publication Entrepreneur has recognized Class 101 college planning franchise as a Top Franchise Opportunity for Less than $50,000. Class 101 received its ranking based on the scores received in the magazine's 2018 Franchise 500 ranking.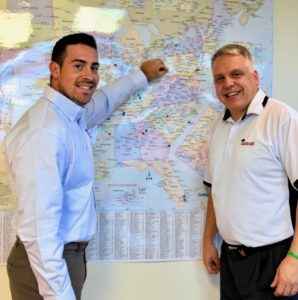 If you're looking for a low-cost, easy-to-launch franchise and have a passion for working with teens, Class 101 is seeking new owners to join our family of franchisees. The need for our services has never been greater as overwhelmed high school counselors are short on time, busy families need help navigating the college application process, and tuition continues to rise.
"This recent recognition from Entrepreneur is just another industry accolade that validates our business model. I'm very proud of our family of franchisees who work hard to help high school students get into the best college at the best price, as well as our home office support staff who work closely with our franchise owners to make sure they have all the tools available to them to grow their business," says Tom Pabin, Founder and CEO of Class 101.
"We offer business-minded individuals with a passion for helping young people the chance to own a business that is not only one that they can be proud of, but also potentially profitable."
The Class 101 national college planning franchise helps high school students get into colleges that are right for them and to qualify for higher amounts of scholarships and financial aid. The college application process is complicated and stressful, often resulting in students who get little or no financial aid and end up at the wrong schools.
2017 was a banner year for Class 101 as we doubled in size in terms of locations and broke several sales records. 2018 looks to be another breakout year, as our Lexington, Kentucky-based company also has been recognized as both an Emerging Franchise and the 13th fastest-growing franchise in the nation by popular franchise opportunity portal Franchise Gator. If you've been on the search for a community-minded business that also offers the opportunity to earn a good living for your own family, then look no further than Class 101.
We Have Affordable Start-up Costs
With a franchise fee of $29,900 — and a total initial investment of $40,490 — our premier college planning services franchise offers a low-cost investment opportunity with a potential for high returns. Several of our franchisees have surpassed the $100,000 revenue mark in their first or second year. Class 101 also is ideal for team franchisees in larger markets. The average gross sales for the top five franchises in 2016 was $164,000, according to Class 101's most recent FDD.
The Class 101 business model is effective; our full suite of services, including ACT and SAT test prep workshops and DiSC behavior analyses, keeps your business pipeline full year-round, even when school is out. You can launch your business venture solo and choose to add employees as you grow, or you can remain a single owner.
For in-depth details about the Class 101 franchise opportunity, download our free franchise report. You also can learn more by visiting our research pages.