New franchisee opens college planning franchise in Katy, Texas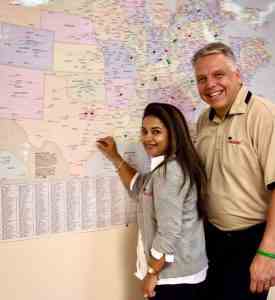 Tejal Mamtora is one of the newest members of the Class 101 family, bringing with her a passion for education and eagerness to make a difference in her community. Her franchise in Katy, Texas, marks the 22nd Class 101 franchise to open its doors to students and their families.
Tejal can't wait to help high school students get into better colleges and qualify for higher amounts of scholarships and financial aid. Because of thorough training and support from the Class 101 corporate office, Tejal says she is ready to address the common issues millions of high school students face year after year when preparing to go to college.
Formerly a CPA and auditor for several companies around the world, Tejal was searching for the right business to fuel her love of education and desire to support her local community. When she came upon the Class 101 franchise, she knew she had found her place. "I know it's a complicated and competitive process just to apply to college," Tejal said. "I can help students and their parents navigate the journey while helping students improve their grades and their chances to get into more colleges and receive more financial support."
"We're so excited to have Tejal join our ranks," said Tom Pabin, CEO and founder of Class 101. "Tejal exemplifies what we look for in a franchise owner. She is not only committed to excellence, but she also has a passion for helping young people achieve their goals."
Tejal recently took a few minutes to chat with us about her first day on the job as a national college planning franchise owner.
How did you get started with Class 101?
I wanted to do something from the franchisee perspective in the education field. I did a lot of research and when I came upon Class 101, the overall mission spoke to me. Finally, here was something where I could use my financial skills and help people at a very critical time in life. I found it very interesting. And, I am passionate about working with the younger generation.
This is your first week at your new business. What's that been like for you and what has your focus been?
It's been very exciting. Last week was my training and the Class 101 leadership team helped me every step of the way. Literally, Tom showed us exactly what to do and I am following a step-by step plan. Since many students are gearing up to take the ACT and SAT in June, I am also developing a college exam boot camp. If I can help them put their best foot forward that would be nice. Secondly, I am also creating a summer program and laying the groundwork to get ready for college preparation next year.
How has Class 101 helped you to get started?
They helped me to understand the marketing and the training and how the services work. They also showed me how to network. They have helped me build up my confidence so that I can help students follow their dreams and parents to make it affordable to them. Class 101's services are easy to sell, but the most important thing is that I am not alone. I have 20 years of college planning experience to back me up.
What did you do before becoming a college planner?
I used to have my own CPA firm and conducted internal and external audits, but it didn't satisfy my interests in serving my community. I also want to see how I can reach a new generation and help them from the college-dream perspective. This is definitely going to be very different for me, but I see it as an education.
Why is there a need for Class 101's services?
Helping students choose the right college is so important. That one decision can help a student become more confident and make sense financially. As you know, about 30% of college freshmen end up leaving because they chose the wrong school for the wrong reasons. That puts them a year behind and places a financial burden on Mom and Dad. When it comes to financial aid forms, 90% of parents complete the FAFSA incorrectly. That's money lost. Class 101 is here to make college as affordable as possible. Our services are offered at such a great price point that one scholarship could pay for our services.
Learn more about Class 101 franchise
If you're looking for meaningful work that's potentially profitable with lower start-up costs, Class 101 franchise ownership could be right for you.
Class 101 is in the middle of explosive growth right now with plans to add 25 franchises this year and to reach 100 total franchises by 2020. We're looking for entrepreneurs with a passion for helping students and their families to join our team. A variety of backgrounds and skill sets is welcome, as we know that diverse franchisees make for more successful businesses and a stronger network.
Learn more about Class 101 franchise ownership by visiting our franchise website, calling 866-345-8955 or requesting a copy of our free Franchise Information Report.