Shared ideas and strengthened connections mean exciting options for college planning students.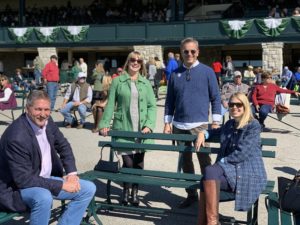 Class 101 Founder Tom Pabin has often said that "the college planning business is much more fun when it can be shared with others." Those words certainly rang true in October when Class 101 celebrated its fifth annual Day at Keeneland. Those in attendance enjoyed the opportunity to spend the day on the grounds of Keeneland Thoroughbred Race Track. They watched first-class racing, enjoyed local cuisine, and connected with members of the Class 101 Corporate team, franchisees from across the country, and area college admissions counselors.
The Class 101 franchisees agreed that spending time with college admissions counselors increases their value as college planners. "The admissions counselors I talked to today were very knowledgeable about their respective colleges," said Todd Mittmesser, Class 101 franchise owner from Conejo Valley, CA. "I was able to gather information and learn about programs that I can now go back and share with my students."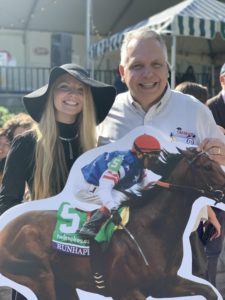 Dee Dee Morris and Allen Spell represented Mount St. Joseph University, Sarah Madison and Sally Foster were in attendance from the University of Kentucky, and Centre College was represented by an admissions counselor and Class 101 graduate, Anne Evans. The shared objective of guiding students through the college planning process and helping students discover colleges that meet their factors allowed for valuable conversations.
Fittingly, Class 101 Day at Keeneland coincided with Keeneland's own College Scholarship Day, which allows college students in attendance to register to win one of ten $2,000 scholarships and prizes from local vendors awarded after each of the day's races. Keeneland hosts College Scholarship Day in partnership with the Kentucky Thoroughbred Association. The program began in October 2002 and has distributed nearly $600,000 in Kentucky, including nearly $350,000 at Keeneland.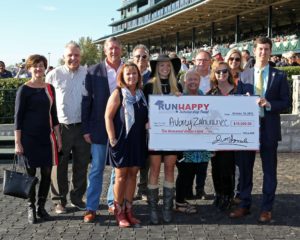 Luck was on the side of Class 101 on this day when Class 101 graduate and Saint Louis University freshman, Aubrey Zahuranec, daughter of Class 101 Cleveland college advisors, Andrew and Jackie Zahuranec won the $10,000 Run Happy Scholarship, an additional scholarship given to each year by Jim and Linda McIngvale, owners of champion and Keeneland sales graduate Runhappy. The day was capped off by a trip to Keeneland's famed winner's circle to help Aubrey celebrate.