Our Act and Sat Preparatory Classes Are a High-Demand Service for Area High School Students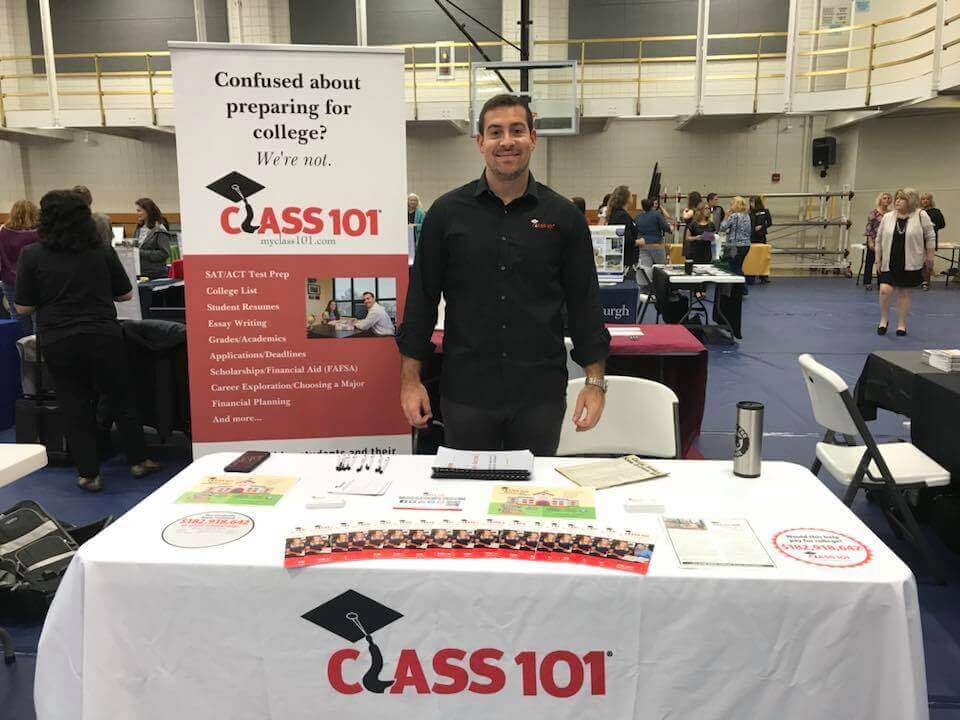 Last year nearly 4 million high school students nationwide took the ACT and SAT. Class 101 college planning franchise typically offers prep workshops in the spring and fall for both popular college admissions tests, generating signups for our year-round college planning services as well as additional revenue.
"During our 20-plus years of business, Class 101 has helped thousands of students improve both their ACT and SAT scores. It's one of our company policies to have kids raise their scores because this results in more admissions letters and more scholarships and more affordable college fees," says Tom Pabin, Class 101 Founder and CEO.
Class 101 is a national college planning franchise that helps high school students get into better colleges and qualify for higher amounts of scholarships and financial aid. We address a common problem: the college application process is complicated, competitive and stressful, resulting in students who don't get enough, or any, financial aid and often end up at the wrong school.
Class 101 addresses these problems by meeting one-on-one with students throughout the year, resulting in their earning improved ACT and SAT scores and GPAs. Additionally, our college planning experts guide students as they draft a high-performance resume and powerful essays, visit schools, complete applications ahead of schedule and navigate the scholarship and financial aid processes. The results are phenomenal. Class 101 students apply to eight schools on average and receive more than $160,000 in scholarships and aid — much more than the average U.S. high school student who applies to a handful of schools and receives about $20,000 in scholarships and aid.
Class 101 Owners Enjoy Helping Students Improve Their Act and Sat Scores
Many Class 101 franchisees have educational backgrounds. As former teachers, administrators and coaches, they are passionate about helping students strive for and attain excellence during the entire college prep journey.
Take former college basketball coach Todd Mitmesser, owner of the Class 101 franchise in San Conejo Valley, California. Like many Class 101 owners, he sees the work he does as a journey toward success in college and beyond. "I think as a coach you don't get into it or stay in it if you're not competitive. And with Class 101 you're in a competition, if you will. You want your students' test scores to go up, you want them to get into the schools they want and need to get into, and you're working every day toward those things. Once they get an ACT score that's several points higher, that's a huge feeling of success. You are helping them every step of the way."
Join Class 101 College Planning Franchise
It's the perfect time to join the growing network of Class 101 franchisees. The initial investment to begin a Class 101 franchise is $45,890, making it a low-cost business to launch with the potential for high revenue. Several franchisees have surpassed the $100,000 revenue mark in their first or second year! Class 101 also is ideal for team franchisees in larger markets. The average gross sales for the top five franchises in 2018 was $212,437, according to Class 101's most recent FDD.
Find out more by researching our franchise website, call 859-759-0495 or request a copy of the Class 101 free franchise information report.