Sibling Referrals Are a Great Way for Franchisees to Rapidly Grow Their Business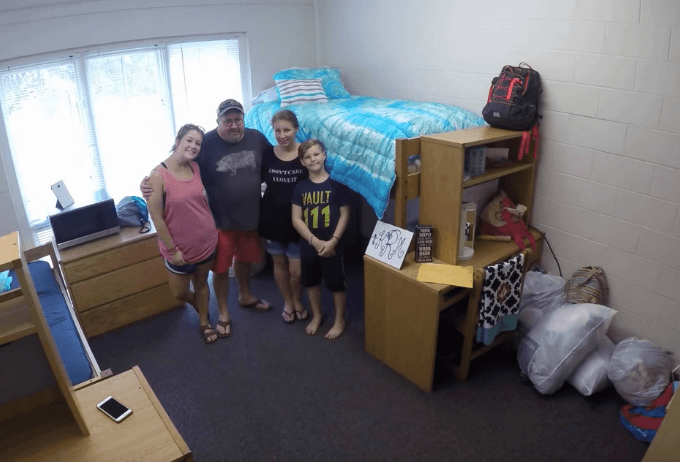 Class 101 is a simple and in-demand business to market and grow, especially with the ease of building the business through signing up families with multiple children. With at least half of U.S. families having two kids or more, according to Pew Research, there is ample opportunity for our franchisees to easily sign up repeat business.
The Scotts in Nashville, like our other Class 101 families, recommend our college planning services to everyone they meet. Not only have we helped them save them a ton of money, but their two college-age daughters are thriving at schools they love and their high school daughter is well on her way to a successful college career because of the guidance provided by Nashville area franchisee Karen Feamster.
"I have three girls going to college spaced just a year apart, which is a pretty daunting scenario — but one that many families can relate to. As a parent, sending three kids to good schools at the same time is very challenging," says dad and satisfied Class 101 client Thomas Scott. "When I heard about Class 101, I jumped at the chance to enroll all three of them."
Demand for Class 101 Services Fuels Explosive National Growth
There is tremendous pent-up demand for Class 101 as the current guidance counseling system fails to meet the need for in-depth college preparatory services. We just celebrated the grand opening of our new franchise support center in Lexington, Kentucky, and are focused on expanding to 100 total franchise locations by 2020. Our growing franchise is a great business opportunity for educators, guidance counselors, youth pastors and others with an entrepreneurial mindset who want to make a great living while making a positive difference in the lives of young people.
The Healy family in Lexington, Kentucky, is relying on Class 101 to successfully send their two kids to college. Daughter Catherine is a graphic design major at the University of Kentucky and son Jack just began his junior year of high school.
"There's a demand for this type of college planning and to have a turnkey franchise that meets such a need in our high school system…there's no doubt that Class 101 will win," says dad Kelly Healy. "When Catherine was a high school senior our friends with seniors were in a frenzy, but because of Class 101 we had a plan. It was like Christmas every day not worrying about who needed to do what as part of the college application process. We wouldn't have gotten the scholarship that Catherine received and Jack will receive without this service."
Class 101 is an incredibly easy business for franchisees to market and we have a high close rate of 90%. Our franchise support team also provides marketing and support materials and we have a simple, yet effective, business model. Many Class 101 franchisees are parents themselves and have experienced first-hand the stress of navigating the college application process and budgeting for college expenses.
"At Class 101 we have helped 3,000 students over the past 19 years get into the right college at the right price. Nine out of our 12 franchise owners have had a child graduate from high school within the last two years, so they are familiar with the process and they can relate to what a family is going through," says founder and CEO Tom Pabin.
Class 101 Services Produce Stellar Savings for Families
Class 101 provides an invaluable resource to high schoolers and their families facing increasing college tuition costs — often for multiple children, like the Scotts. Middle daughter Kayla, now a freshman at Spring Hill College, is the latest to head to campus and saved thousands of dollars on her college tuition because of Class 101 — $256,000 total to be exact. Because of the methodical process that Class 101 franchisees use, she also found the perfect match school that will lead to a happier and more satisfying career as she pursues a business major.
The astronomical savings the Scotts have experienced, thanks to Class 101, are anything but atypical. Class 101 is able to save families an average of $160,000 in merit-based scholarships alone. We also help students bump up their ACT score an average of 3.1 points, which can equate to significant additional dollars available to high school seniors to help ease the financial crunch of tuition.
"My oldest goes to Wooster in Ohio and is thriving as an English and film studies major. I have no out-of-pocket expense for her! That's amazing because it is a $55,000-a-year school, and she's a good, but not great, student. All three of my girls are solid B students heavily involved in activities, but not the valedictorian or honor-class type," Thomas says. "Class 101 has been an excellent experience, and I'd recommend it to any parent (and do). I send a steady string of customers to my local Class 101, and my daughters are also fond of talking about what a huge advantage they had over their friends."
Learn more about Class 101
A typical Class 101 territory has a population of about 250,000 with eight high schools — comprised of 14,000 total high school students. Of this high school population, 3,500 are seniors. A Class 101 franchise can be successful with a 1% penetration rate, and there is plenty of expansion potential in larger markets for multiple franchise locations.
For in-depth details about the Class 101 franchise opportunity, request our free franchise report. You can also learn more by visiting our research pages.