Teachers and Former Business Owners Are Excited About Class 101 College Planning Franchise's Flexible Model and Franchise Support
Texas school teachers Pei J. Chen and Michael Kwong love working with students, but as former business owners, they were looking for a second career option that would allow them to have a greater impact on students, as well as make a good living. When Chen found Class 101 online she was wowed by our college planning franchise's proven, 20-year business model. The husband and wife business team quickly came on board, becoming the newest Class 101 Texas franchise to join our growing nationwide network of owners.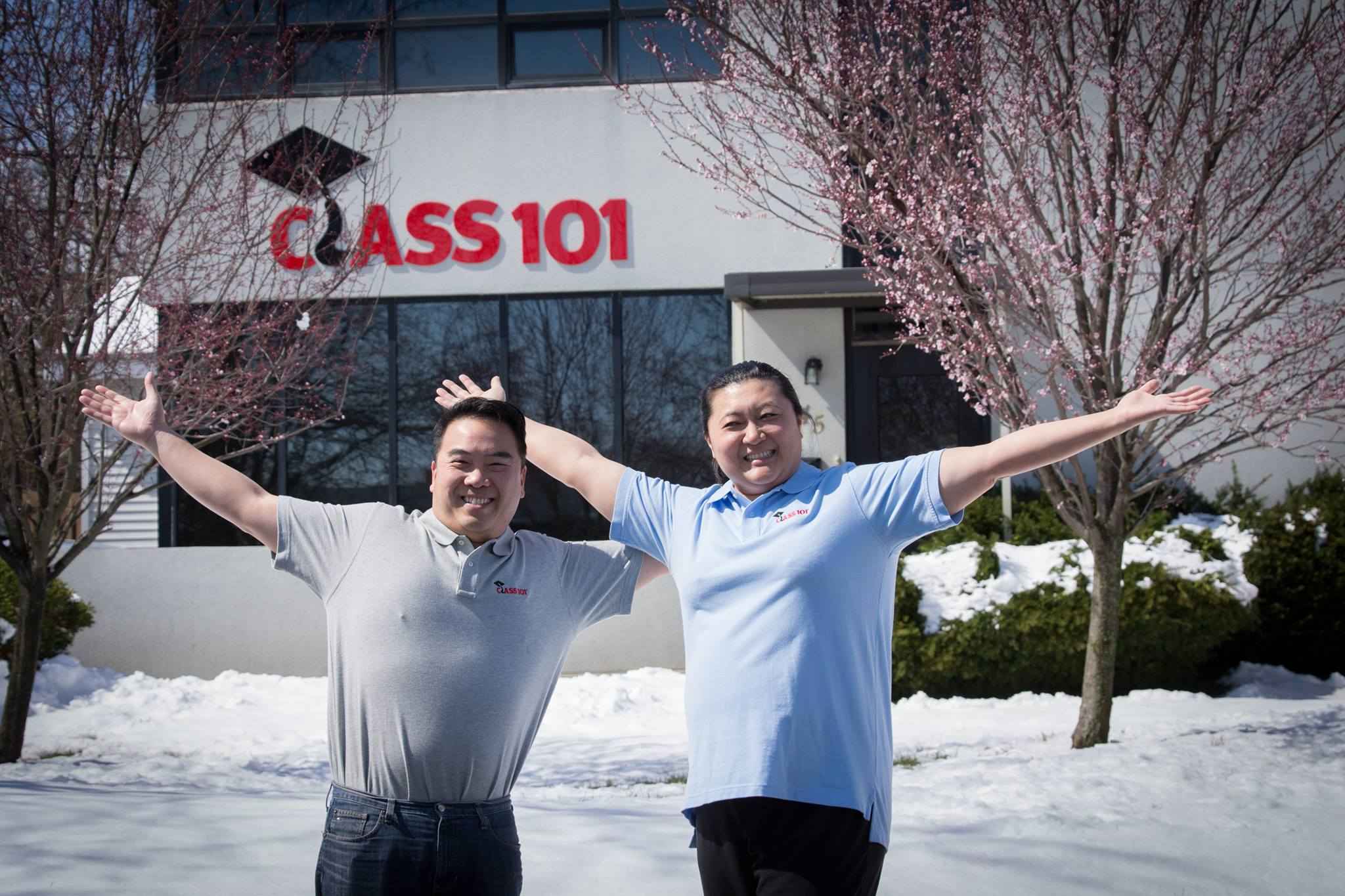 "I initially wasn't sure about the franchise model, but when I learned more about Class 101 and how they support the franchisee, it sounded a lot different than the typical franchise. Class 101 doesn't require a huge upfront investment and because Class 101 has been around for 20 years, we knew it was a reliable system. We thought that was the best of both worlds. We were attracted to Class 101's turnkey system, which shaves years off the learning curve for new owners," Chen says.
Both Chen and her husband have had varied careers. Most recently they have taught in the Texas school system, where they have honed their skills in working closely with students. Chen says she is excited to help young people with their next phase of schooling. Both lifelong learners and students themselves, Chen earned her B.A. in Political Science and Communications from Boston College. Kwong earned a B.A. in Psychology prior to a J.D. from Boston College Law School, an MBA from University of Phoenix, and an M.Ed. from Houston Baptist University. He also proudly served in the Navy for eight years.
Class 101 national college planning franchise is helping high school students get into better colleges and qualify for higher amounts of scholarships and financial aid. The college application process is complicated and stressful, resulting in students who get very little, or zero, financial aid and who often end up at the wrong school.
Class 101 addresses this need by meeting one-on-one with students throughout the year, resulting in the improved ACT and SAT scores and GPAs. Additionally, our college planning experts guide students as they draft a high-performance resume and compelling essays, visit schools, complete applications ahead of schedule and navigate the scholarship and financial aid processes. The results are phenomenal. Class 101 students apply to 8 schools on average and receive more than $160,000 in scholarships and aid, much more than the average U.S. high school student who applies to a handful of schools and receives about $20,000 in scholarships and aid.
We recently chatted with the husband and wife team about their decision to transition from full-time teachers to full-time franchisees as professional college planners with Class 101.
Duo Finds Class 101's Flexibility Attractive
As teachers who also have business backgrounds — the couple has owned a laundromat in the past and also invested in real estate — Chen and Kwong found Class 101 to be an attractive, low-cost business to launch. They were also sold on the existing Class 101 system that is based on 20 years of best practices. "We like the fact that it is very scalable," Kwong says.
As the duo builds their Class 101 business in Sugarland, they have mapped out their office space needs and they have been thrilled that Class 101 allows them that flexibility, which isn't always the case in the business world. The couple had been looking at various business investment options, including an early learning center or tutoring center, but found the cost prohibitive. "We are talking a big lease and at least $100,000 at launch," Kwong says. "There's no comparison to Class 101's affordable start-up fees."
In addition to low start-up costs which allow for flexibility, the couple also appreciates Class 101's flexible footprint that will enable them to modify their office space needs as their client list grows.
"It's flexible as you grow because you can build up to acquire the office space," says Kwong. He and his wife are currently having their Sugarland office space built, with a projected opening date of April 2019. In the meantime, the couple is renting office space. "Tom Pabin, founder and CEO of Class 101, is very flexible in working with each franchisee. This model allows for flexibility, which as a business owner I appreciate."
Franchisee Support in Class 101 Comes From Leadership as Well as Fellow Franchisees
Whether they have a question about building their business pipeline or finding the perfect location for the office, Chen says she has been impressed with the accessibility to Pabin during their research phase and now as brand new franchisees. As they build their business in Sugarland, a suburb of Houston, she and Kwong have been in constant contact with Pabin, as well as with other franchisees.
"Tom really cares about the franchisee and our success. He has a set plan for us and I like the aspect of that. At the same time, however, he is flexible and understanding. Michael and I are both still teaching this year. Tom is very understanding of our needs as well as helping us get over certain hurdles while we launch our business."
Class 101 Provides a Much-Needed Service
As teachers, Chen and Kwong have seen firsthand the limited time that school counselors and teachers have when it comes to college planning. As parents of a nearly middle school-age daughter, Jacqueline, they also are keenly aware of the challenges facing families navigating the college planning process.
The newest Class 101 owners in Texas both see the need for Class 101's services in their city and in cities throughout America. "Class 101 teaches students the skills students need in life. They don't need another worksheet, they need a lot more life skills," Chen says. "Unfortunately the teachers don't have time to teach these life skills needed for college — the organizational skills, soft skills/social skills, how to talk to someone. The teachers in our schools do a great job but they don't have the time to do this and parents are so busy they don't have the time, either. If they can get someone, like a Class 101 college planner, to provide that service at a reasonable rate, why not?"
Join Our Growing Network of College Planning Franchisees
The initial investment to begin a Class 101 franchise is $42,890, and the potential for high revenue starts from day one. Several of our franchisees have surpassed the $100,000 revenue mark in their first or second year. The average gross sales for the top five franchises in 2017 was $196,216, according to Class 101's most recent FDD.
There's never been a better time to join the Class 101 college planning franchise. We're enjoying unprecedented nationwide growth and are looking for new franchise owners who are passionate about helping young people find the right school and save money on college tuition.
Find out more by researching our franchise website, calling 855-592-3692, or requesting a copy of our free franchise information report.