Following Our 30-Day Launch Plan Helped This New Franchisee Clinch a Record Opening Month for Her College Planning Franchise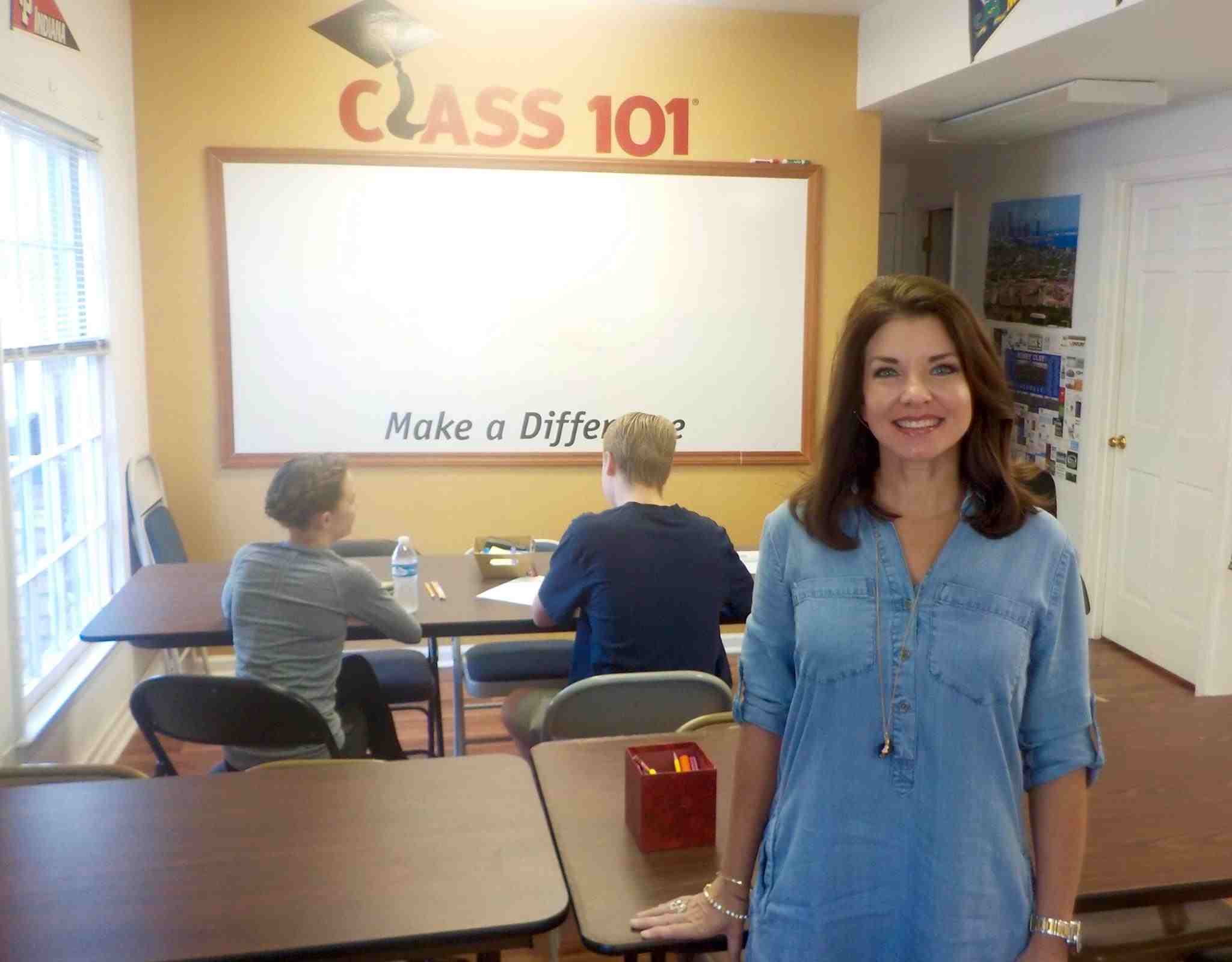 Hollie Holt is one of the newest members of the Class 101 franchise family — and one of our most optimistic. She has good reason to be, too, because she closed out the most successful first month in our company's 19-year history. Hollie credits the step-by-step business model provided by Class 101 for the record-breaking launch.
"I followed the plan and the steps provided by Founder Tom Pabin and the Class 101 headquarters support staff, " Hollie says. "That is the value of a franchise model; it maps out what is tried and true."
Class 101 is a national college planning franchise that helps high school students get into better colleges and qualify for higher amounts of scholarships and financial aid. We address a common problem: the college application process is complicated, competitive and stressful, resulting in students who don't get enough, or any, financial aid and often end up at the wrong school.
Hollie became interested in running her own business when she and her husband, Steve, a financial advisor, lived in West Tennessee. Through her job at a local university, she knew she had a passion for helping young people, and she started looking for the right opportunity to turn that passion into a business. Her brother was a successful franchisor so she was also sold on franchising as a successful business model.
"During my career at UT Martin's Regional Entrepreneurship and Economic Development Center, I worked closely with the college of business students to help them find internship opportunities. I loved working with young people and helping them pursue their dreams," Hollie says.
The timing and logistics of launching her own business were never quite right, however, while the Hollie's family lived in West Tennessee. After the Holts moved to Nashville in 2015, her desire to pursue entrepreneurship piqued again.
Hollie knew she wanted to own a business that met a need. With four children (three of whom have either been in college or are currently in college), Hollie was familiar with the challenges facing families as they plan and pay for college.
"My whole philosophy is 'what is something that I need that I know other people need as well?'" she says. "The college process is not as easy as it used to be. There's a lot more to take into account, especially with the skyrocketing costs."
A friend's Facebook post about the Class 101 headquarters grand opening captured her attention. "I went to the Class 101 website and loved what I read," she says. "I thought 'wow, that is a great concept and something I so would have paid for for my own children.'"
After chatting with that friend, a satisfied Class 101 customer who had saved more than $250,000 on sending his daughter to college, Hollie was sold on Class 101. Company founder Tom Pabin says that Hollie exemplifies Class 101's ability to find people's passion and turn it into a purpose.
"Hollie has a caring heart, and Hollie and Steve have a quest to make college more affordable for Nashville area students," Tom says.
We recently chatted with Hollie about how the Class 101 business model has helped her succeed.
How has training from Class 101 headquarters helped ensure a successful launch?
Tom builds on our knowledge and the franchise support team is with you every step of the way.
One thing I have found impressive is the weekly calls with franchisees. There is a continuing education aspect as we learn about a new college and university each week, and we can bounce ideas off each other. I have found that we have a very supportive group of franchisees, and I feel like I can pick up the phone and call them any time.
How easy was it for you to launch your Class 101 franchise?
Very easy. Setting up the business as far as accounting and obtaining a business license and those sorts of things can be time-consuming and complex, but as far as setting up Class 101, the path was laid out for us. What Tom told us to do works, obviously, and we followed that step-by-step for the first 30 days.
What is attractive about the startup costs?
One thing that Is very enticing about the Class 101 franchise business model is the low overhead as well as the reasonable franchise fees, which for many franchise owners can be made up very quickly. You can actually work out of your home so you don't have all of the overhead costs. My plan is to have a stand-alone location within the first two years, but starting out working out of a home office keeps your profit from going out the door.
Who makes a good Class 101 franchisee?
Someone with a passion to help others makes a good Class 101 franchisee because they are helping not just students, but also their parents. Class 101 ownership is ideal for people with a background in education and for people who love working with young people. It's also an ideal business for women with an entrepreneurial mindset who are looking at reentering the workforce as they have gone through the college planning process with their own children and they understand the challenges.
Why is there a need for Class 101's services?
About 30 percent of college freshmen end up leaving because they chose the wrong school for the wrong reasons. That puts them a year behind and places a financial burden on Mom and Dad. When it comes to financial aid forms, 90% of parents complete the FAFSA incorrectly. That's money lost. Class 101 is here to make college as affordable as possible. Our services are offered at such a great price point that one scholarship could pay for our services.
How have you been marketing your business?
I hit the ground running. I have gone to every networking event and meeting that I can think of to get the word out about Class 101. I have also met with the guidance counselors in our schools within our territory. Class 101's services are an easy sell. When you sit down with a student and their parents and you start talking about all the things that they need to do to apply to college they get overwhelmed and immediately see the value in our services.
What is your schedule like as a Class 101 franchisee?
You can put as many hours in it as you want. I have been putting in a lot of hours to launch my business, but it's not like having a retail store where you have to be there 8 to 5. Flexibility of the business is a perk. If I need to take a particular day off, for example, I simply do not schedule any consultations.
Learn More About Class 101
The Class 101 business model ensures that owners have a steady stream of revenue throughout the year, not just during the school year. Franchise owners have three ways to generate revenue: classes to prepare students to excel at the ACT and SAT, organized campus trips and retainer agreements for one-on-one consulting services. Class 101 is a low-overhead business model with the potential for high revenue from day one. Several of our franchisees have surpassed the $100,000 revenue mark in their first or second year. The average gross revenue for our top 5 franchises in 2015, according to our most recent FDD, was $137,000.
For in-depth details about the Class 101 franchise opportunity, download our free franchise report. You can also learn more by visiting our research pages.